LACES Graduate Student Paper Award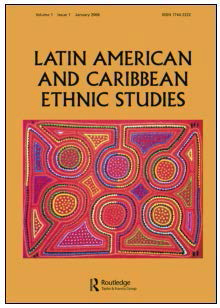 LACES Best Paper Award for Graduate Students
ERIP Conference, Morelia 2017
To promote excellence in scholarship on Ethnicity, Race, and Indigenous Peoples, the journal Latin American and Caribbean Ethnic Studies (LACES) has established an award to give special recognition to the best paper presented by a graduate student at the ERIP conference. The entries will be evaluated by members of the journal's Editorial Board.
The winner will receive a prize of 500 dollars, will be honored at the conference, and will be offered the opportunity to publish the paper in the journal LACES (subject to editorial peer review).
Participants must be currently enrolled in a Doctoral or Masters program.
Papers can be submitted in English, Spanish, or Portuguese. Length of papers must be between 5000 and 12000 words. Style and presentation can follow any of the usual academic guidelines.
Paper submission deadline: September 1, 2017.
To enter the competition, send your paper and updated CV as email attachments (the files must be in Word or PDF format) to the following address: Journal LACES laces@ucsd.edu
Please include the following information in your email:
Name and email address
University and department
Are you enrolled in a Doctoral or Masters program?
Premio LACES a la Mejor Ponencia de Estudiantes de Postgrado
Conferencia ERIP, Morelia 2017
Para promover excelencia en los estudios sobre Etnicidad, Raza y Pueblos Indígenas, la revista Latin American and Caribbean Ethnic Studies (LACES) ha establecido un premio para reconocer a la mejor ponencia presentada a nivel de estudiantes de postgrado en la Conferencia ERIP. Las ponencias serán evaluadas por miembros del Comité Editorial de la revista.
El ganador o ganadora recibirá un premio de 500 dólares, reconocimiento público en la conferencia, y tendrá la oportunidad de publicar la ponencia en la revista LACES (sujeta a revisión y dictamen editorial).
Pueden participar en el concurso estudiantes que estén actualmente inscritos en programas Doctorales y de Maestría.
Las ponencias pueden presentarse en inglés, castellano o portugués, con un mínimo de 5000 y un máximo de 12000 palabras. El estilo puede ajustarse a cualquiera de los formatos usuales.
Fecha límite para presentar la ponencia: Septiembre 1, 2017.
Para entrar en la competencia, enviar (en formato Word o PDF) su ponencia y su Curriculum Vitae actualizado por correo electrónico a la siguiente dirección: Journal LACES laces@ucsd.edu
Incluya la siguiente información en el mensaje electrónico:
Nombre y dirección de email
Universidad y departamento
Esta usted inscrito/a en un programa de Doctorado o de Maestría